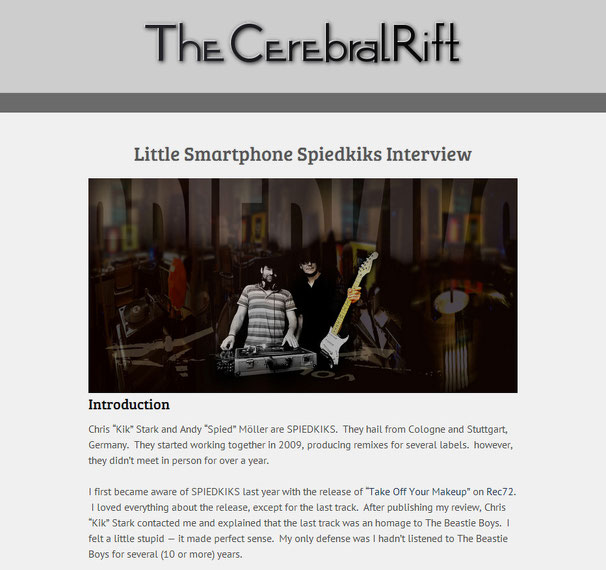 The most poignant release in my recent memory that fits the strict, definitive standards of "free culture" and "tasty morsel" is Spiedkiks' Little Smartphone People from March of this year.
Spiedkiks—a Cologne, Deutschland duo—were allegedly aiming to brew something downtempo "in the first place", but I challenge anyone to listen to this album sitting down. From the opening track, "Disco Bunny", you know this subversive bunch is here to party.
Skillful intertwingling ² of electronic and analogue instruments (i.e. Moog, Trombone, Violin, Turntables, Vocals, Drums) in addition to a deep roster of guest talent make for a deeply layered mix. Let me single out a few exceptionally heavy punches: "One Hot Finger Lickin' Minute" gives us a quick prime example of Spiedkiks' brand of synchronized cacophony. Anthemic energy fills "Freckles & Hairslides" for a while, after which the rhythm repetitively breaks down into beautiful little fractal fragments, gathering entropy, then returning to the ocean to coalesce. "Selfie @ The Zoo" features violin leading a chorus of haunting vocals dabbling into Near East territory. "Sundowner" earns a place near and dear to my heart for heavy utilization of the boisterous trombone. "Helicopter" rocks in a hard, primal fashion and reeks of the familiar angst of awaiting impending upheaval.
Professional arranging and production skills abound on Little Smartphone People. In order to ensure they would have as much fun making the album as listeners do when the needle drops, Spiedkiks rang up remote and local connections Johannes Hehrmann, Justus Heher, Dominik Berlin, Mr. Goodbar, Kurt von Suso, Shazalakazoo, and Jero Castella to help in actualizing this album, which itself is a testament of a growing community of creators of free cultural works.